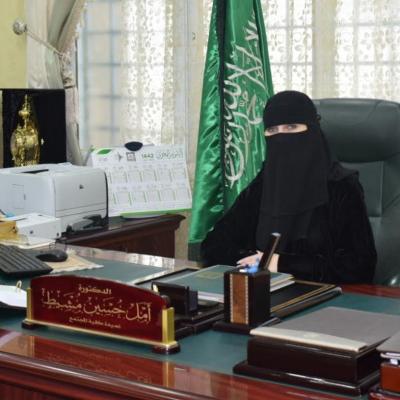 Dr. Amal Al Mushait " Community Service Advocate "
The Vice Dean of the Female Community College in Khamis Mushait, Dr. Amal bint Hussain Al Mushait, received King Khalid University Excellence Award for Community Service -Individuals category- after organizing and launching more than 90 community initiatives which are aligned with the kingdoms 2030 vision and the university's mission for community service. 
Dr. Amal Al Mushait, stressed that the excellence award encourages the university members to improve their performance and participate in initiatives that serve the overall well being of our community. 
Al Mushait , achieved voluntary social responsibility in various sectors and committees, through at least 90 community initiatives, in a number of cultural, social and health fields, in addition to supporting a number of projects that serve the community.
During her career, Al Mushait worked as a consultant to a number of authorities in Asir region, and has honorary memberships in a number of committees in Khamis Mushait.
She also launched and organized many community events that served the region in various fields,  and is a member in a number of committees, most prominent of which are Women's Safety Forum, the Saudi Geographical Society (King Khalid University branch), Advisory Committee in Aseer Region, Governorate Development Council in Khamis Mushait. Al Mushait also received a number of awards, trophies and appreciation certificates from many entities.
On her recommendation to other university members seeking the excellence award , Dr. Amal said : employees who wish to compete for the Excellence Award, need to document their achievements and compare them to the award's requirements.