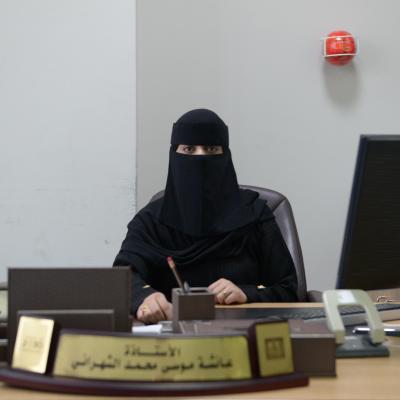 Aisha Al-Shahrani, Efforts to Spread Technical Awareness Locally and Internationally
Mrs. Aisha bint Musa Al Shahrani, the Head of the IT and Media Department at the Center for Talent, Creativity and Entrepreneurship at King Khalid University, received the university's excellence award for innovation (faculty members and staff category), for her innovations that meet the 2030 Vision and the university's interests.
Mrs. Aisha stressed that the excellence award is a great encouragement for the university members to improve their performance.
During her career, Al Shahrani received the bronze medal from the International Innovation Exhibition, worked as a cooperative consultant with the Ministry of Human Resources, and supported one of the Massive Open Online Courses (MOOC) Al shahrani, is also a member in many committees in the university, and has participated in organizing many community and technical events that aim to spread awareness among society members, she was the leader of "Your Awareness Protect Us" initiative, which impacted the region positively.
Al Shahrani has participated in a large number of technical training initiatives with many agencies, as well as her membership in the internal audit committee for the quality of management systems IOS 9001 : 2015 at the university, in addition to her membership in the Media Production and Design Committee. Mrs. Aiysha has received many awards, trophies and appreciation certificates from many entities. 
It's worth noting that Mrs. Aisha Al Shahrani thanked His Excellency the President of King Khalid University, Prof. Faleh bin Rajaa Allah Al Sulami, for encouraging and supporting the university members, and for his keenness on achieving excellence and innovation.